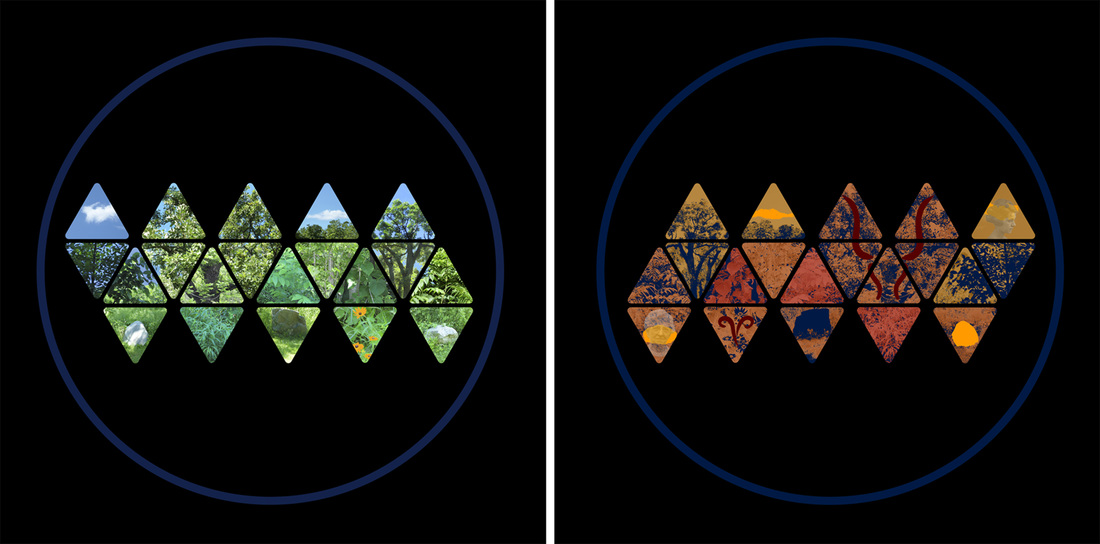 Stone Circle

1) I had the best teachers in the world. Rogier van der Weyden taught me to make every detail count. Poussin taught me to seek a vibrant stillness. Matisse taught me to compose art like music.

2) On another page of this website you'll find five books celebrating myth and imagination. Those books say everything that I am able to express with words. But words go only so far.

3) What are my paired images about? Each pair finds its own subject(s), but all explore human consciousness: what we observe, what we remember, and how the two mix.

4) Most viewers are drawn at once to shiny objects and famous names. Relatively few are drawn to art that matters. True art arrests the eye; engages the mind; inspires the soul.

5) I build my work deliberately, out of respect for the past, but with urgency, out of respect for the future. It took me thirty years to form these diptychs. Can you spare three minutes? The more you chew, the more you'll taste.

6) Every creator has a moral responsibility to make art worthy of the name. You can't wake up in the morning thinking you're going to be original. You can wake up thinking you're going to do your best.

7) Art making is the most vital thing we do - an assertion of our humanity; a cri de coeur against death. "...for here there is no place that does not see you."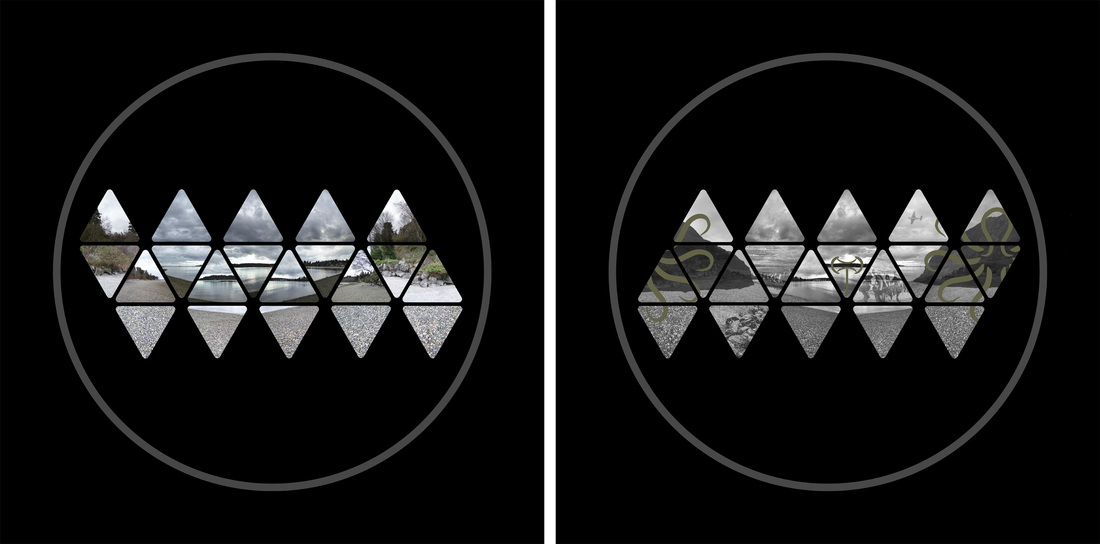 Holy Cove

Because the world is so rich, because life is so short, I've become obsessed with paying attention. When I go for a walk or just sit in a room, I try to take more notice of what's "out there" - colors, sounds, shapes, movement. At the same time, in the same places, I'm paying closer attention to what's "in here" - thoughts, emotions, plans, memories.

Often the two kinds of focus collide. I fail to enjoy a sunset because I'm concerned about air pollution. Or I lose track of an argument when I see a camellia in bloom.

Sometimes - rarely, thrillingly - what's outside and what's inside seem to mesh. For a moment at least, I feel equally aware of my surroundings and my interior life. Thinking about it after the fact, I believe that in such magical moments each focus of attention is affecting the other: the scene around me bringing up potent memories, the memories making my visual experience more vivid.

Why should this sort of cohesion, this sort of integration, be so rare? Why should it feel so extraordinary? So meaningful? I have found the experience a fit subject for meditation. And a goad to making art.


************

On the Looking Out, Looking In page I describe, step by step, my method for shaping these antikons, or "answering images." Here I'd like to emphasize that using such a method feels liberating rather than restrictive. Potential connections between the two images are virtually infinite, arising from all sorts of responses, and taking all sorts of forms. Some connections are more obvious than others.

Look, for example, at the four most prominent abstractions in Stone Circle and Holy Cove - a bull's head, a flower, an octopus, a double axe. [Drawn in acrylic paint on paper, then scanned and resized digitally.] You'll see at once that the bull shows a formal connection to the oak and its branches; that the octopus
similarly relates to the looming, dark mountain. The abstract flower and the axe, by contrast, relate to content - the first to the actual flowers within the same triangle; the second to the subject of the piece.

The old photos are also placed as they are intentionally, each for its own reason. My paternal grandmother was practical and direct. My maternal grandmother, shown in her youth, was art-loving and spiritual. A Seabee in WWII, my father was killed during the landing on Iwo Jima. It makes sense to show an airplane against sky, a body against sand, rather than the reverse.

Such placements reveal conscious decisions, more considered than intuitive. They are easiest to explain, because one can see clearly how to get from A to B. More mysterious are the issues they raise: What takes us from a stone circle in Minnesota to ancient Crete and two beloved grandmothers? Or from a lovely cove on Bainbridge Island to a wartime slaughterhouse?

Other connective elements are even less conscious: Why is the icosahedron's 360-degree map broken vertically just here rather than there? How do the mirroring colors relate to one another? Why is there so much symmetry? What do those blue and gray framing circles signify? What does it all mean?

If I could tell you, I wouldn't need to make the art.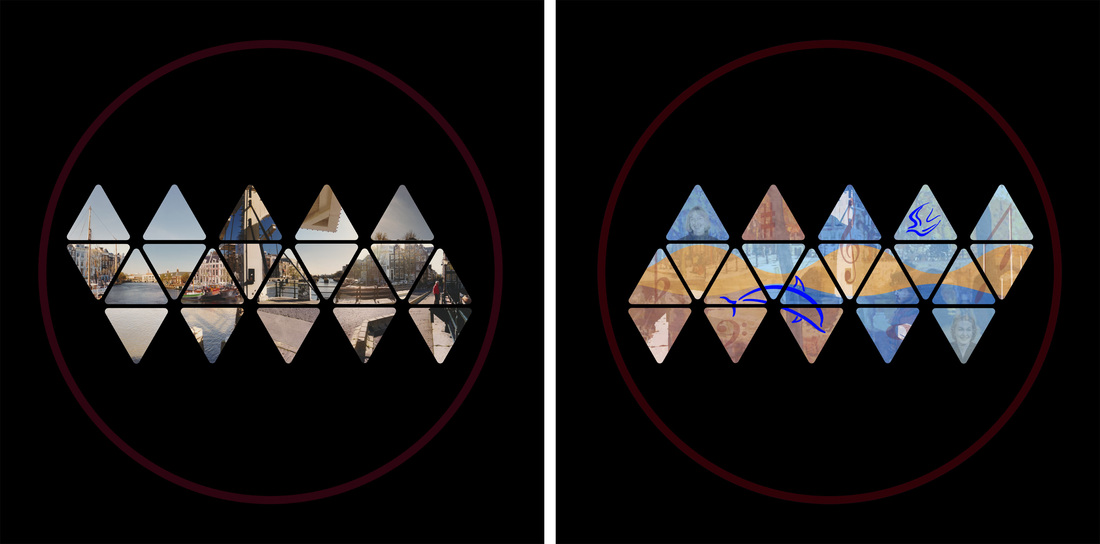 Wide Bridge

Amsterdam is my favorite city. Its handsome buildings and canals look like the past. Its street life looks like the future. Multiple cultures, multiple tastes meet and mingle. People enjoy walking. And the arts! A five-minute boat ride down the Amstel will take you past more museums, galleries, studios, concert halls, theaters, cinemas...than you could sample in a year. I know. I've tried.

My three digital diptychs fit together as a series. Connections among them go beyond the twenty triangles. Each "landscape" shows a place of singular importance to me: a circle of stones in a Minnesota arboretum, a quiet cove on Puget Sound, a bridge in central Amsterdam. Each "response" contains similar formal elements - abstractions from Minoan motifs; black-and-white family photos - as well as similar color and design choices.

After completing the series, I looked back at each of the diptychs and discovered a theme (not quite a subject, not exactly a mood, more a state of mind). I now believe that Stone Circle has to do with wonder, Holy Cove
with reverence and Wide Bridge with joy. Are these themes visible to you?

************

You, the viewer, are my collaborator in creating art. The work isn't finished until you see and respond to it.

This is especially true for art made in a new way, and seen for the first time. No one has told you what to expect or whether the piece is worth your effort. You bring fresh eyes, along with your own taste and art experience.

May I, as your co-creator, make a few suggestions?

1) Embrace the triangles. Yes, they might seem an odd way to view the world (or to recreate it), but note the sub-groups they form within each group of twenty. Try looking at them in sets of five or four or six.

2) Focus for a time on the black interstices, the thin crisscross lines, the larger, nearly hexagonal nodes. Depending on your mood, these can feel more compelling than the colorful windows they frame.

3) Step back and look at the diptych whole - both sides together - for its overall shapes, its overall patterns, its overall colors. Then look at each side separately, but in relation to the other. How do they connect?

4) When you look at details, give as little thought as you can to what I may have been thinking or feeling as I made them. What are you thinking or feeling as you see them?

5) Please keep in mind that "slow art" requires nurturing by both creators.
But what a pleasure to watch it grow!